Activities for all in the Verdon Country
Canoeing, hiking, climbing in Quinson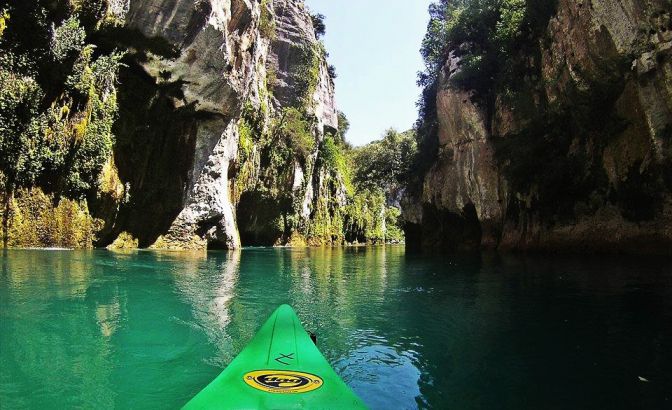 Take just a glance at what you can do, and you'll probably decide to go canoeing. That's because among the different ways to go up or down the Verdon, kayaking is one of the loveliest. If you're into history, geology or star-gazing, you'll also find something to float your boat under the most beautiful sky in all of Europe. Different professionals hiring out canoes offer themed routes for you to discover natural cavities in the side of the gorges, like the ones inhabited by prehistoric people near Quinson. They may even offer night-time trips! If these simultaneously sporty and cultural sessions still aren't enough, you'll also be able to get an experience with more of an adrenaline rush, with the Verdon allowing you to work your entire body.
Walking is also a great way of discovering the region and uncovering what gives this territory its special personality. The surroundings of Le Moulin du Château are dotted with paths, including some GR and PR routes which start at the entrance of the hotel. Put your shoes on and wander these lovely paths at your leisure.
Cycling enthusiasts will also find their paradise in the Verdon. Cycle routes on secondary roads or greenways, as well as the main roads open to car traffic, offer an incredible playground! The most recommended types of bikes for these circuits are the All-Around Bike (VTC) or the Electric Assisted Bike (EVA).
If you're a bit dehydrated after a walk, a car journey or too steep a climbing route, let yourself be tempted by a dip in the refreshing waters of the Verdon at one of its bends, at the lakeside beaches or while canyoning.
You can also discover millennia of history at the Musée de la Préhistoire (Prehistory Museum) in Quinson, designed by architect Sir Norman Foster. Thanks to modern and dynamic museography, discover these "cavemen" whom we think we know but about whom we discover new things all the time. This museum is literally one of the largest in Europe in its field and will give you a fascinating insight into the prehistoric age.