What can you do in the Verdon Country?
Why, everything and anything!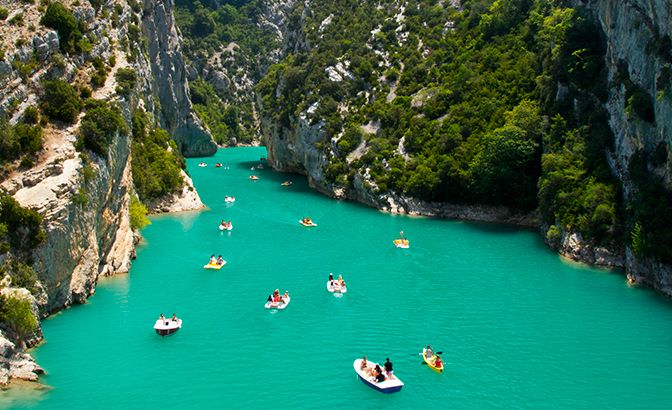 If you're into discovering new places, you won't want to leave us, as some of Provence's greatest attractions across different areas lie within the vicinity Le Moulin du Château. From culture and architecture to nature and sport, it's got everything! Let's start with nature. Omnipresent and calming, it is within this light that so many painters from France and elsewhere have come looking for it.
From the Valensole plateau dotted with lavender to the turquoise water of the Verdon river, and from the gorges to the lakes and not forgetting the lower gorges, you can discover natural beauty in a range of unique ways, including nautical/aquatic activities, canoeing, walking, cycling (some electric bikes can be rented from the hotel, and and even by horse-riding. If you want to, you'll be able to see everything from up top from the rocky heights of the Gorges du Verdon. Reach the top of them and you'll see why they're as famous as they are. You can get an even better bird's eye view by going gliding. There's also tennis in Montpezat (free for hotel guests), or for a more relaxed time, golf in Digne-les-Bains or in the Luberon, where you'll be able to admire the views at your own pace.
At the Geological Reserve in Digne, you'll discover how these impressive landscapes came to be, while at the Musée de la Préhistoire in Quinson, you'll see how the first inhabitants lived and also how they transformed the landscape. You can also discover the region's history simply by strolling the streets of the surrounding towns and villages like Riez, Moustiers Sainte Marie, Quinson, Esparron and Sainte Croix. Some of these communities are perched atop hills while some are built into the rocky cliff edges.
Our hotel in Saint Laurent du Verdon is your gateway to the Regional Natural Park of Verdon. In addition to the stunning landscapes, its policies regarding tourism are outstanding. Created 20 years ago, the park holds a "European Charter for Sustainable Tourism" certificate from the European Parliament via the Europarc Federation (the European network for natural and cultural heritage). The Verdon Park justly deserves it, as you'll find around a third of French flora and an exception diversity of fauna here.