Villages with so many faces
Tourism in the Alps of Haute Provence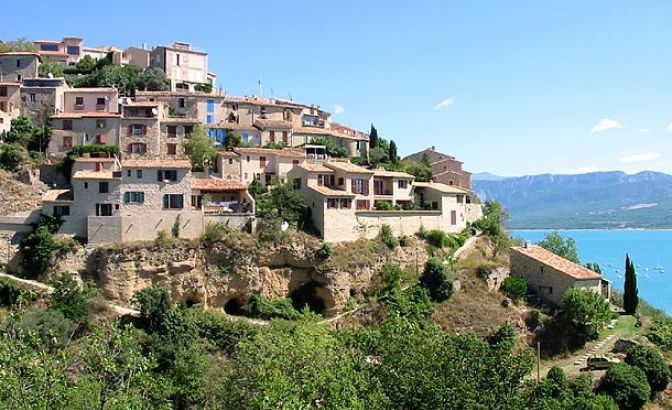 Each one has its own unique appearance but seems to share common traits as though they were siblings. This fantastic semblance to one another can be found throughout the Haute-Provence villages surrounding here, which also have their own personality and their own special, unique sort of something. At Sainte Croix, it's how it's built into the edge of the hill, offering an incredible view over the lake that shares its name. Rich in Provençal flair, you'll be able to discover producers of lavender in Sainte Croix. There's also Qunison, a village with a rich history which makes for a great tourist interest with its lake, its museum on prehistory (the largest in Europe and the lower Gorges du Verdon.
Then there's Moustiers-Sainte-Marie and the lively colours of its earthenware which has made it so famous worldwide. This place is unmissable, being located just a few kilometres from the shores of Lake Sainte-Croix and classed among France's most beautiful villages. Its houses and lively streets are built into the rocks. In Riez, a small town with Roman origins in the western part of the Verdon Country, discover its ancient columns which are one of the town's symbols. The lively market on the Place du Quinconce attracts numerous visitors from near and far on Wednesday and Saturday morning. It sells a great number of natural and organic products from the region. Gréoux les Bains, known for its thermal paths, also has a special medieval side to it with its castle and its streets that seem fresh even in the summer heat - almost like two towns in one. Then there's Esparron de Verdon, a hilltop village at the entrance to the lower Gorges du Verdon where you can visit the Aven de Vauclaire and the castle before relaxing on the beaches of Lake Esparron with its crystal clear water.

There is still La Palud, at an altitude of 935 m, known for its road ridges and viewpoints over the Gorges du Verdon between Moustiers Sainte Marie and Rougon, which overlooks the Sublime Point and offers a unique viewpoint, Régusse , that its mills seem to watch from the top of their hill, over the valley ... Such a variety on the same holiday - find something that interests you between the Haute Provence Alps and Haut Var.