Tourism in the Verdon Country
A region rich in contrasts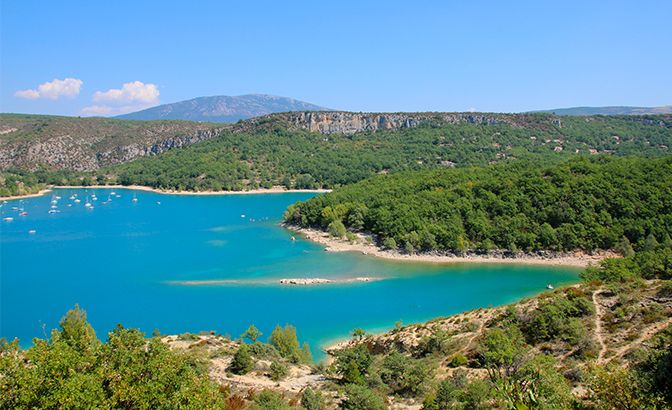 Close your eyes and imagine a Provençal back country, warm, rugged and dry yet also a refreshing place full of water and life. Such a place does indeed exist, with the lower Gorges du Verdon, the Gorges de Baudinard, and the Lakes Sainte-Croix, Quinson, Esparron and Artignosc all within a few dozen kilometres, where the relaxing turquoise waters wash up against the dry rocks in the heart of the Regional Natural Park of Verdon.
The River Verdon, whose source is in the Massif des Trois Évêchés at an altitude of almost 3000 m, travels 175 km to the River Durance. This region between Castellane and Lake Sainte-Croix is known as the Gorges du Verdon. It is divided into three distinct parts:
- the "Pre-Gorges" which go from Castellane to Pont de Soleils;
- the Gorges which go from Pont de Soleils to the Imbut;
- the Canyon which goes from the Imbut to Pont de Galetas. The Gorges du Verdon are wide and deep, with a depth of between 250 and 700 m and a width of 6 to 100 m at the level of the River Verdon, plus between 200 and 1500 m from one slope to another at the top of the Gorges. A route can take you across this part, which you can also take along the water.
And while the water calms and ceases to stir so much, they transform into welcoming lakes. Here you'll find beaches and get a chance to relax. Calmly canoe, take a refreshing dip in the lake and watch your children play on the sand while a boat sails by in the distance - this is yet another side of the Verdon Country.
The Verdon Country can also be discovered on foot. From the Canyon de Baudinard to Lake Esparron, the lower gorges offer the opportunities for numerous hikes in a highly protected natural environment. A recently revamped path runs across them, offering a spectacular pathway over turquoise waters in total isolation. The return via the Male Sauque Plateau with its far-stretching views over the Massif du Verdon provide the perfect end to the walk. …..
If you love hiking, you also mustn't miss the Blanc-Martel path which allows you to enter into the depths of the Gorges du Verdon and follow the course of the river. This path is a one-way route between the Chalet de la Maline at La Palud-sur-Verdon and the Point Sublime. Shuttle buses are there seasonally to allow you to do the return journey, and a taxi service is also available. The effort is worth it as you'll get amazing views and have a unique experience which will forever remain in your memories.